An air filter MERV rating indicates the filter's ability to capture contaminants from your home's air. In other words, some filters can catch more or smaller particles than others. Homeowners should consider MERV ratings because the amount of particles trapped by the filter impacts the air quality inside the home.

HVAC systems contain air filters to improve air quality. The air that blows through your vents first travels through the air filter. The filter traps contaminants in the air, like dust and hair, so they don't affect the HVAC system or get blown back into the home. Regularly replacing the air filter is a necessary task for homeowners, so having a basic understanding of filter ratings and when the filter should be changed is essential.
A MERV (Minimum Efficiency Reporting Value) rating expresses an air filter's quality in terms of its ability to trap airborne particles between .3 and 10 microns. One micron is equal to .00003937 inches or .001 millimeters. For reference, the diameter of human hair is about 70 microns.
The MERV scale is an industry-standard and ranges from 1 to 20. Filters with ratings on the high end of the scale can trap more particles and smaller particles than filters on the low end.
Filters with ratings between 1 and 6 are in the lowest range. These filters can capture particles between 3 and 10 microns with varying degrees of effectiveness. Filters with ratings between 1 and 4 capture less than 20% of particles, filters with a rating of 5 can capture up to 20%, and filters with a rating of 6 can capture up to 35%.
These low-rated filters can remove small particles from the air, such as pollen, dust mites, carpet fibers, and spray paint dust. They are inexpensive, energy-efficient, and will not overburden HVAC systems by restricting airflow.
Filters with MERV ratings between 1 and 6 are not recommended for homes because they trap only a small percentage of particles and aren't effective at capturing particles under 3 microns. Therefore, these filters are not suitable for people with allergies and asthma. These filters are best suited for industrial settings with good airflow and little need to filter out small particles.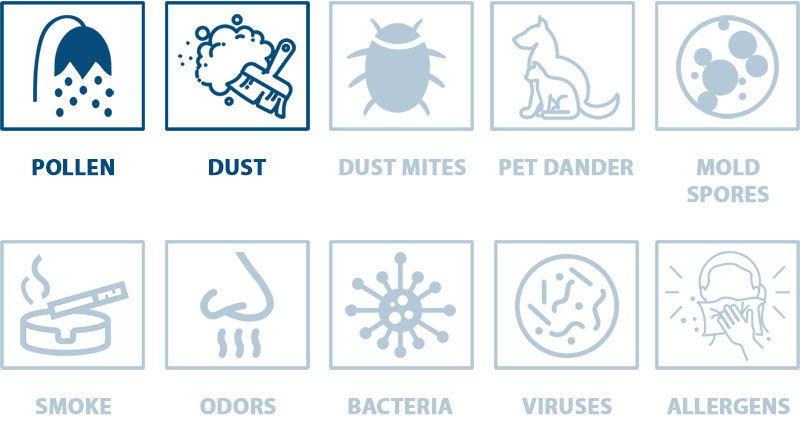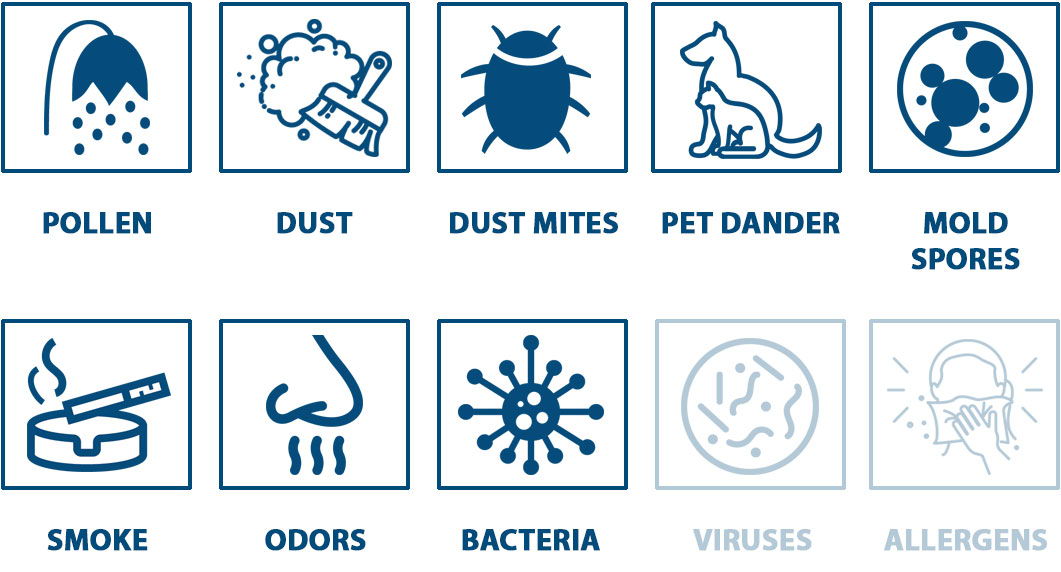 Filters with ratings between MERV 8 and MERV 13 can capture more and smaller particles than those in the lower range. Filters with ratings of 8, 9, and 10 can capture 20 to 80% of particles between 1 and 10 microns, while filters with ratings between 11 and 13 can trap 65 to 90% of particles between 1 and 10 microns. In addition, filters with ratings between 11 and 13 can trap up to 50% of tiny particles between .3 to 1 microns.
These filters can capture mold spores, lead dust, cooking dust, flour, hairspray, auto fumes, furniture polish, and welding fumes. However, they are costlier and less energy-efficient than lower-rated filters.
Filters with MERV ratings between 8 and 13 are suitable for homes and commercial settings because they capture a more comprehensive range of particles and benefit allergy and asthma sufferers.
Filters with ratings between 14 and 20 are the highest rated filters. Filters in the 14 to 16 range can capture 90 to 95% of particles between 1 and 10 microns and 75 to 95% between .3 and 1 microns. Filters in the 17 to 20 range can trap at least 99% of particles between 1 and 10 microns and 99.97 to 99.99997% between .3 and 1 microns.
These high-quality filters can remove dust, smoke, pollen, mold spores, bacteria, viruses, and carbon dust. They are expensive and inefficient because they significantly reduce airflow.
Filters with MERV ratings between 14 and 20 are not necessary for homes. They are often used in hospitals and laboratories where extremely clean air is imperative.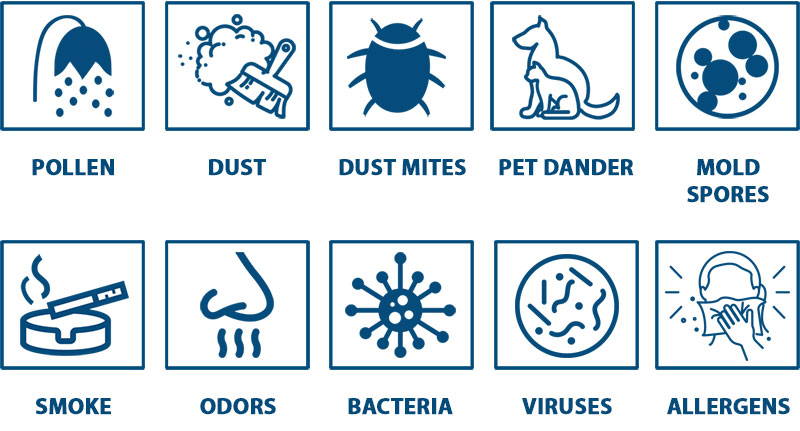 HEPA filters are not MERV rated because they exceed the testing protocol, but they equate to a MERV rating of 17 or higher. HEPA (high-efficiency particulate air) filters can trap at least 99.97% of .3 micron particles and even higher percentages of larger and smaller particles. ULPA (ultra-low particulate air) filters are even more effective, trapping up to 99.999% of particles as small as .1 microns.
HEPA and ULPA filters are used in sterile environments like operating rooms because they are highly effective at catching tiny particles like bacteria and viruses.
What MERV rating do I need?
Generally, a MERV rating of at least 11 is recommended, MERV 13 air filters are preferable, and MERV 14 is optimal for homes. The best filter for your home depends on what MERV rating your system can accommodate and what you want to be filtered out of your air.
Your filter must be compatible with your HVAC system. Higher-rated filters reduce airflow and can create problems if systems cannot accommodate them. Restricted airflow may reduce cooling power, cause the system to consume more energy, or crack the furnace heat exchanger.
The Environmental Protection Agency recommends that MERV 13 filters be used, if possible, in non-healthcare settings. The American Society of Heating, Refrigerating, and Air-Conditioning Engineers (ASHRAE) prefers MERV-A 13-A or MERV 14 filters. MERV 13 filters can trap up to 65% more particles than MERV 8 filters and capture viruses such as COVID-19, bacteria, smoke, sneeze nuclei, and insecticide dust. Most home HVAC systems can accommodate MERV 13 filters.
| | | | | | | |
| --- | --- | --- | --- | --- | --- | --- |
| | | | | | | |
| | | | | | | |
| | | | | | | |
| | | | | | | |
| | | | | | | |
| | | | | | | |
| | | | | | | |
| | | | | | | |
| | | | | | | |
| | | | | | | |
| | | | | | | |
| | | | | | | |
| | | | | | | |
| | | | | | | |
| | | | | | | |
| | | | | | | |
*Adding an activated carbon filter with a MERV or HEPA filter helps to effectively reduce Volatile Organic Compounds (VOCs), odors, smoke, gaseous fumes, and formaldehyde.
When to Change MERV Filter
Changing your air filter regularly is imperative to maintaining good air quality in your home. Still, filter changes also keep your HVAC system running efficiently and your energy bills from rising. In general, filters with higher MERV ratings must be changed more frequently.
How often you should change your air filter depends on several factors. You should change your filter more frequently if you have pets, young children, or people with allergies or asthma in the home. Other determining factors include whether the home was recently built, the home's size, how often the HVAC system runs throughout the day, the climate, and the indoor and outdoor air quality.
Frequent dust accumulations around your vents and on fan blades, curtain rods, furniture, and cabinets indicate that your filter needs to be changed. Loss of cooling power and excessive noise from your air conditioning unit suggests an overdue air filter change. Removing and inspecting your air filter every few weeks is a good idea. Change the filter if it appears dirty, clogged, or wet.
An air filter's MERV rating indicates the filter's quality in terms of how many small particles it can capture. Homeowners should consider MERV ratings when replacing the air filter.
Generally, filters in the 8 to 13 range are best for homes. Filters in the lower range are not effective enough, and those in the higher range are too effective for a home's HVAC system to handle. Be sure to ascertain which MERV rating your system can accommodate. The EPA recommends MERV 13 filters which capture a wide range of particles without overtaxing most HVAC systems.