Changes are coming to HVAC regulation with the 2023 HVAC efficiency standards. Beginning January 1, 2023, HVAC products will be required to meet new minimum efficiency standards for heating and cooling. In addition, the DOE is updating the efficiency testing procedures and the current efficiency rating system with new metrics: SEER2, EER2, and HSPF2. These standards set forth by the Department of Energy will apply to air conditioners and heat pumps sold in the U.S. Consumers in the market for new HVAC units should be aware of the new standards and how they will impact them.
What are the Energy Efficiency Standards for HVAC systems?
The Department of Energy (DOE) enforces minimum energy efficiency standards for HVAC equipment nationwide to ensure homeowners use the most up-to-date and energy-efficient products. The cumulative utility bill savings to consumers are estimated to be more than $2 trillion by 2030.
Depending on the HVAC system type, there are three metrics used to measure efficiency:
Seasonal energy efficiency ratio (SEER):

SEER ratings

measure how efficiently your air conditioner unit cools your home throughout a season. Generally, ratings range from 13 to 23, with the highest SEER rating considered the most energy-efficient.  
Heating seasonal performance factor (HSPF):

HSPF measures your heat pump's energy efficiency to heat your home throughout the season. The higher the HSPF rating, the more efficient the heat pump.

Annualized Fuel Utilization Efficiency (AFUE):

An AFUE rating indicates how much fuel your furnace consumes is converted into usable heat. For example, 80% AFUE means that 80% of every BTU of energy used to run the furnace returns to the home as heat while 20% is wasted.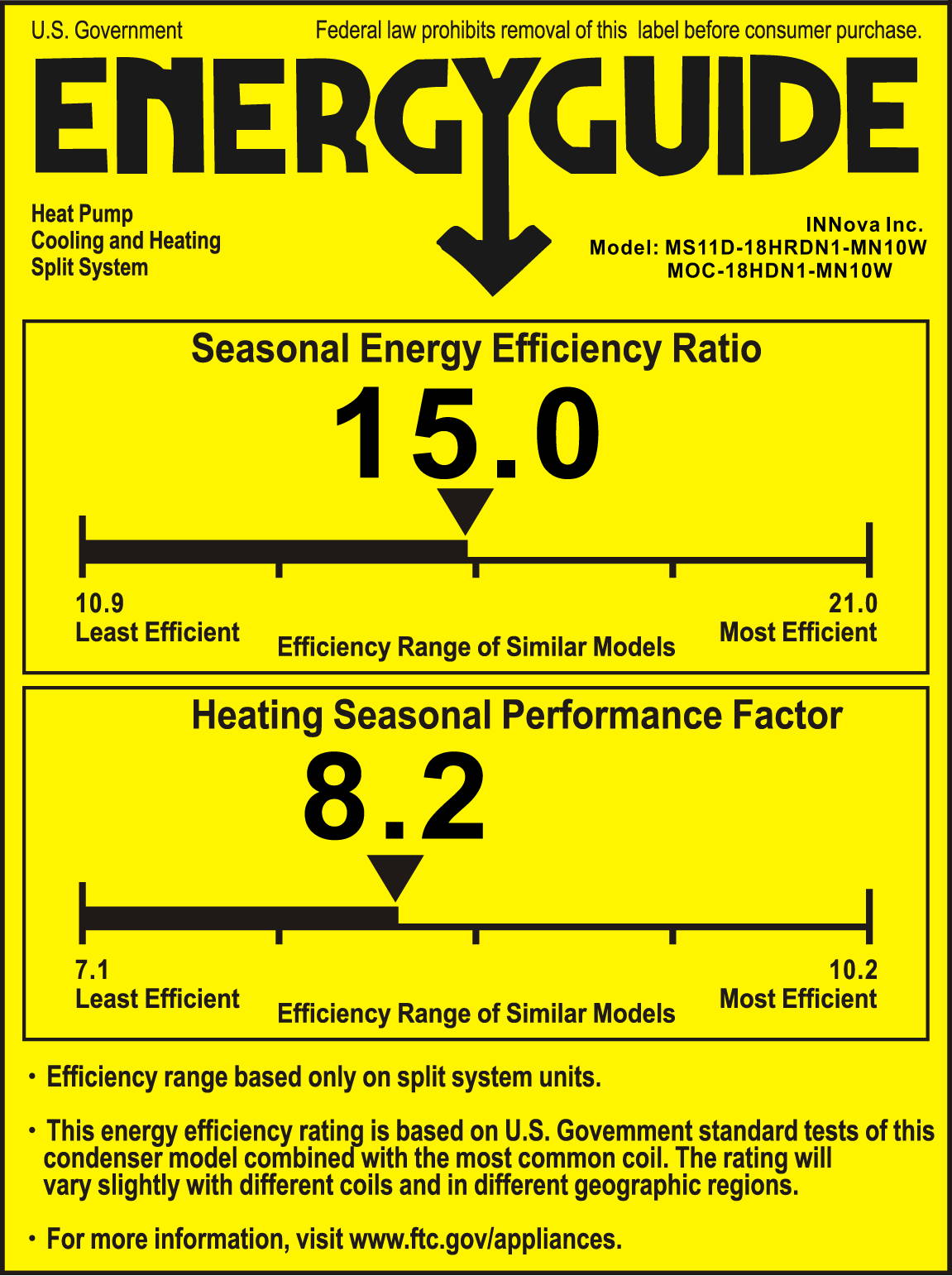 Every six years, the DOE reviews the effects of energy usage, sets minimum efficiency requirements, and manages the testing standards by which those efficiencies are measured. By 2023, the DOE will increase the minimum efficiencies for central air conditioners and heat pumps. The testing procedures for determining those efficiencies will change as well.
In 2015, the DOE established regional guidelines and divided the U.S. into three main regions based on the states' climate, which means these minimum standards can differ from state to state.
North: The northern region includes Alaska, Colorado, Connecticut, Idaho, Illinois, Indiana, Iowa, Kansas, Maine, Massachusetts, Michigan, Minnesota, Missouri, Montana, Nebraska, New Hampshire, New Jersey, New York, North Dakota, Ohio, Oregon, Pennsylvania, Rhode Island, South Dakota, Utah, Vermont, Washington, West Virginia Wisconsin, and Wyoming.
Southwest: The Southwest region consists of Arizona, California, Nevada, and New Mexico.
South: The South region includes Alabama, Arkansas, Delaware, Florida, Georgia, Hawaii, Kentucky, Louisiana, Maryland, Mississippi, North Carolina, Oklahoma, South Carolina, Tennessee, Texas, Virginia, the District of Columbia, and the U.S. territories.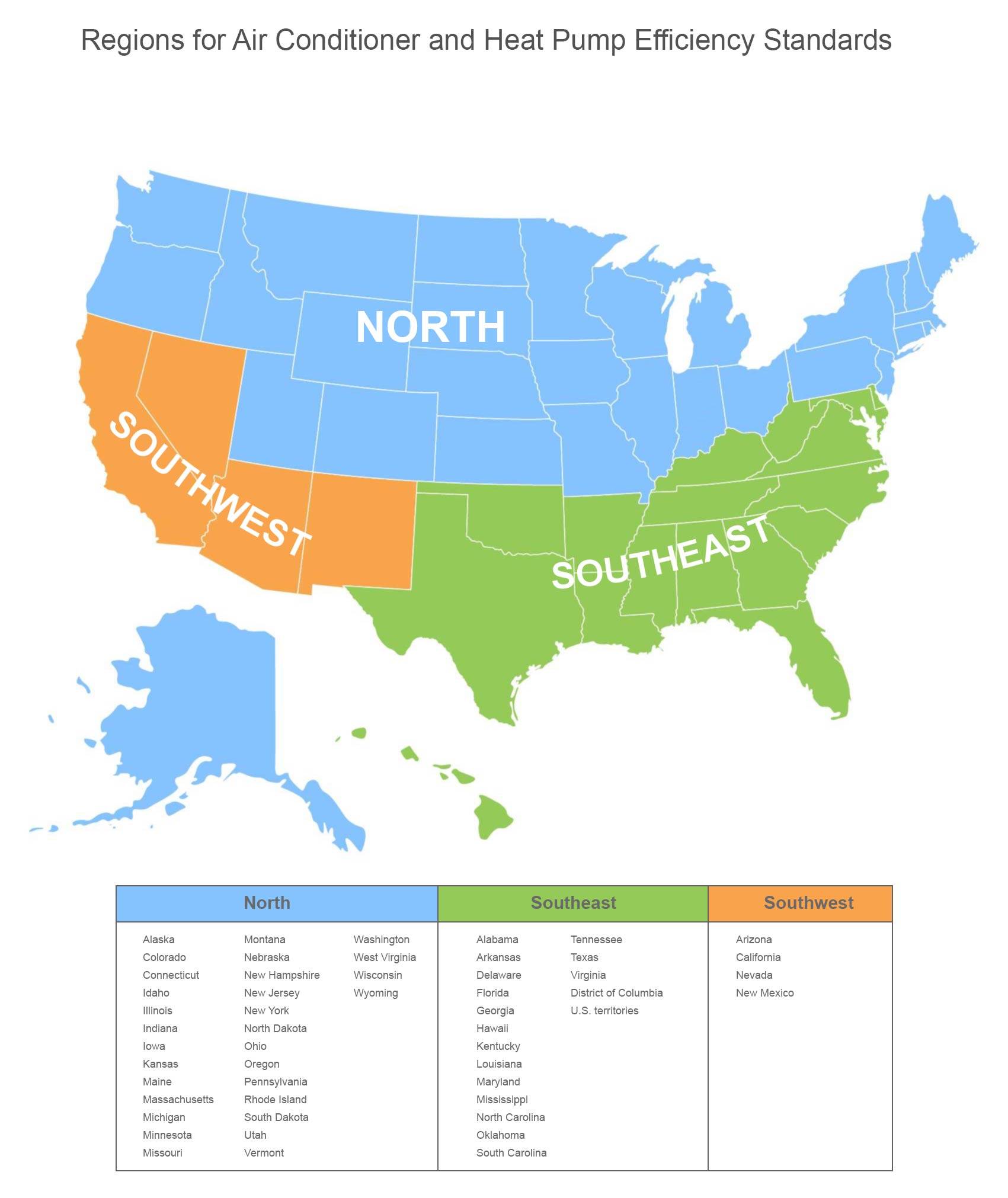 2023 HVAC Efficiency Standards
In 2023, all new HVAC systems being sold must adhere to the new efficiency standards outlined below:


SEER: The minimum rating for air conditioning systems will increase from 13 to 14 SEER for the northern region. The minimum rating will increase from 14 to 15 SEER for split systems using less than 45,000 BTU and from 14 to 14.5 SEER for split systems using more than 45,000 BTU in the Southeast and Southwest.
HSPF: The minimum rating for heat pumps will increase from 8.2 to 8.8 HSPF for all regions.
AFUE: The minimum rating for furnaces will become 81% AFUE for all regions. Currently, the minimum is 80% AFUE for the southern and southwestern regions and 90% for the northern region.
EER:

The Southwest region alone will also have to meet new EER standards. The minimum rating for air conditioners will be 12.2 EER on units less than 45,000 BTU and 11.7 EER on units of 45,000 BTU or greater if the SEER is greater than 15 but less than 16. The minimum will be 10.2 EER on any unit of 16 SEER or greater.

In addition to higher efficiency standards in 2023, a new testing procedure: 10 CFR Appendix M1 to Subpart B of Part 430 - Uniform Test Method for Measuring the Energy Consumption of Central Air Conditioners and Heat Pumps. Systems tested for this method will use the new terminology SEER2, HSPF2, and EER2. The new metrics are more reflective of conditions within homes affecting HVAC units. All new HVAC units must comply with the latest testing procedures.
Minimums for Residential Air Conditioning and Heat Pumps
| | | | | | |
| --- | --- | --- | --- | --- | --- |
| | All | North | Southeast | Southwest | |
| | | | | | |
| | | | | | |
| | | | | | |
| | | | | | |
---
*11.7 EER limit for equipment ≥ 45K BTU/Hr
| | | | | | |
| --- | --- | --- | --- | --- | --- |
| | All | North | Southeast | Southwest | |
| | | | | | |
| | | | | | |
| | | | | | |
| | | | | | |
| | | | | | |
---
*9.8 EER2 limit for equipment ≥ 15.2 SEER2
Air Conditioner Condensing Units
Effective January 1, 2023, air conditioner condensing units will require more efficiency and be modified to SEER2 depending on the region where the product is installed. Additionally, the Southwest region must meet new EER/EER2 standards.

According to the DOE, compliance with the 2023 standards requires the least efficient SEER rating, commonly referred to as the coil-only rating. The equipment's energy guide label lists this least efficient combination rating. If a range is listed, the lower SEER rating should be used to determine if the equipment meets the minimum efficiency requirement.
Split System Air Conditioners – 2023 Regional Standards
System Type
North Region
Southeast Region
Southwest Region

Split System ACs
(AC < 45K Btu/h)

Split System ACs
(AC ≥ 45K Btu/h)
* 10.2 EER if SEER ≥ 16.0 SEER ** 9.8 EER if SEER2 ≥ 15.2 SEER
For the North Region, any 13.0 SEER air conditioner built before January 1, 2023, can still be installed on or after January 1, 2023.
For the Southeast and Southwest Regions, any air conditioner that does not meet the above requirements cannot be installed on or after January 1, 2023.
By January 1, 2023, all heat pumps will require more efficiency and be modified to SEER2 and HSPF2. Single-packaged heat pumps stay at 13.4 SEER2 (14.0 SEER) and 6.7 HSPF2 (8.0 HSPF). However, all split-system heat pumps must achieve a minimum of 14.3 SEER2 (15.0 SEER) and 7.5 HSPF2 (8.8 HSPF). These air-source units must adhere to the new testing measures and meet SEER2 rating requirements.
Split System Heat Pump – 2023 National Standards
| | |
| --- | --- |
| System Type | National Efficiency Standard |
| | |
| | |
Any 14.0 SEER heat pump built before January 1, 2023, can still be installed on or after January 1, 2023.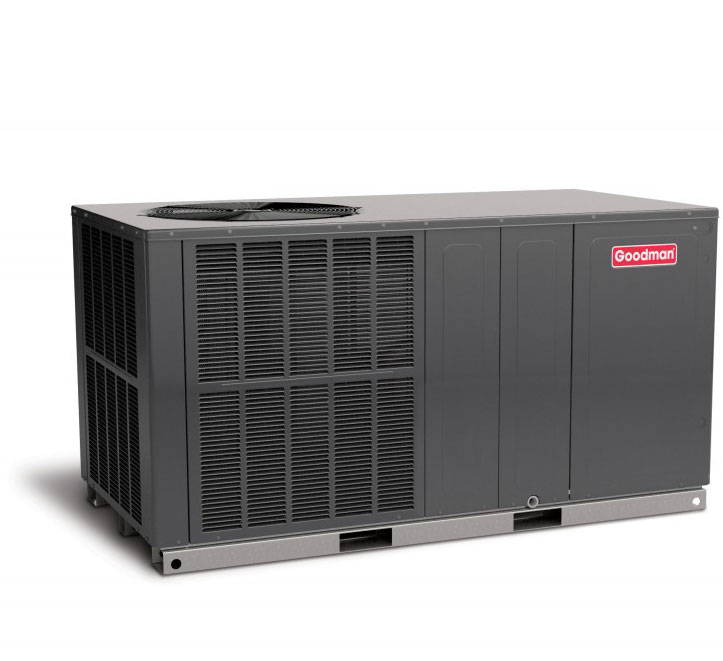 The 2023 standards on single package units will not increase in minimum efficiency. The standards will remain 14.0 SEER (13.4 SEER2) and 8.0 HSPF (6.7 HSPF2). However, single packaged units will be required to comply with the new testing procedures.
Package Systems – 2023 National Standards
System Type
National Efficiency Standard

Package ACs,
Heat Pumps,
Gas Electrics and
Dual-Fuel Heat Pumps
How do I find my current HVAC energy efficiency ratings?
If your system is newer, you can find its energy efficiency ratings on the yellow and black Energy Guide label. Otherwise, you can find efficiency ratings in the product's description or the specifications on the brand's website. Another option is to contact the brand's customer service by email or phone.
What does this mean for me? Do I need to upgrade my existing air conditioner?
If you are a homeowner, there is no need to panic. You can continue using your existing air conditioner unit if it is still functional and installed. The new regulations and requirements only apply to new AC units purchased after 2023.
If you are considering purchasing a new AC unit, heat pump, or packaged system, it's essential to keep these updated efficiency standards in mind come 2023. Higher-performing units can be more expensive than older units or systems with lower SEER, EER, or HSPF ratings; for each increase in SEER rating, expect to pay anywhere from $350 to $1,500 more.

Although it may cost you more upfront, choosing a high-efficiency heating or cooling system may save you more money in the long run. According to the Office of Energy Efficiency and Renewable Energy, upgrading a home's heating and cooling system can reduce energy use by up to 20% or more, depending on the condition of the existing systems. So, maximizing efficiency is an excellent way to keep money in your pocket at the end of each month.
Beginning January 1, 2023, new air conditioners and heat pumps sold in the U.S. will be required to abide by new efficiency standards and testing procedures. Cooling system regional standards will increase by 1 SEER. National split-system heat pump standards will also increase to 15 SEER and 8.8 HSPF. Single-packaged system standards will remain at 14 SEER and 8.0 HSPF; however, single-package systems will have to comply with the new testing procedures and meet the SEER2 and HSPF2 requirements.
New termonology

Minimum efficiency reduction

Retesting

Test procedure changes

Airflow set point on indoor blowers, including fan coils and furnaces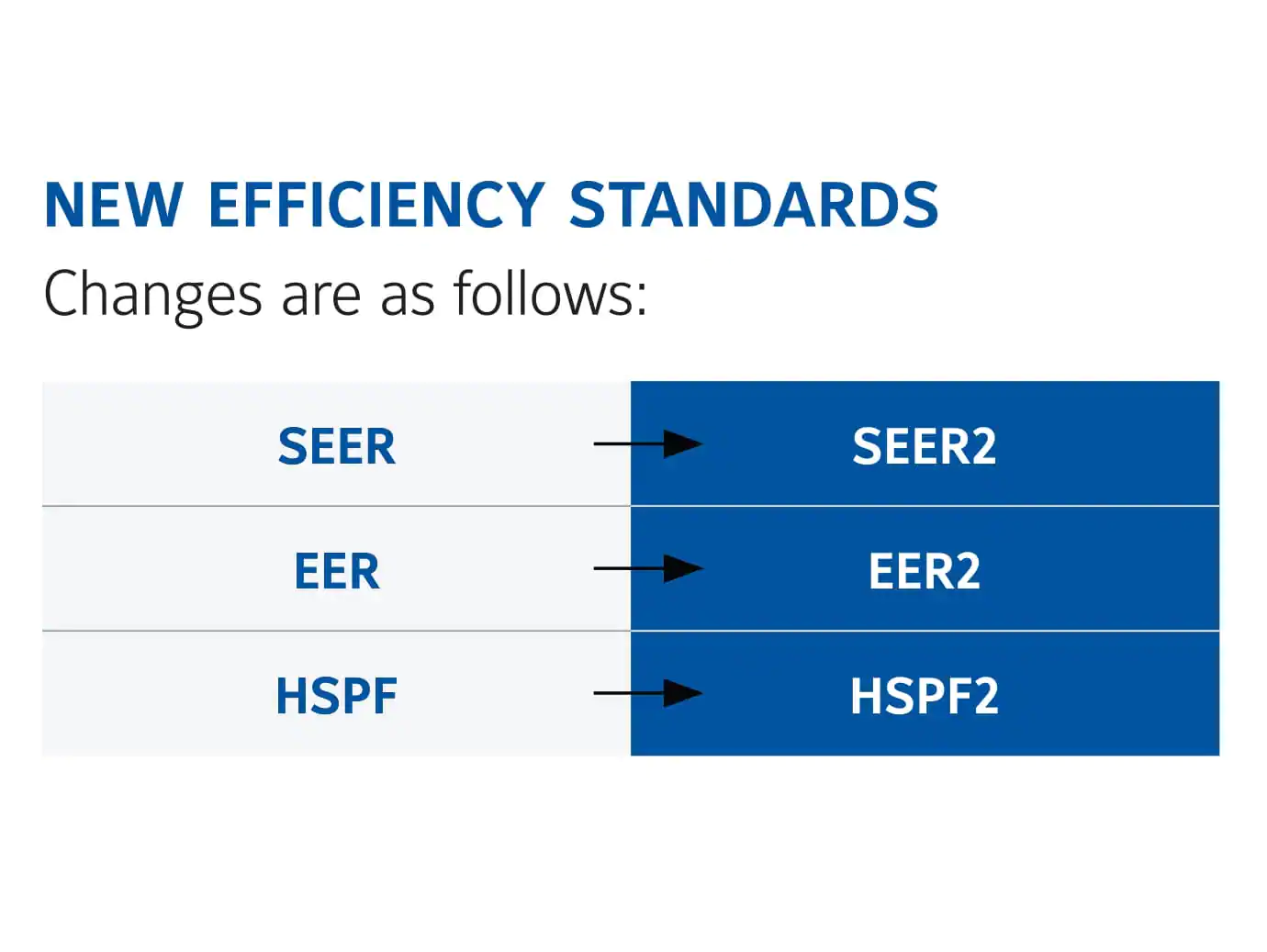 Homeowners may continue to use their existing HVAC units in 2023. The new standards only apply to new units. If you plan to purchase a new unit in 2023, be aware that higher-efficiency units can be more expensive, but they may save you money over time by reducing your energy bill.